---



On Today's Irish Times.


April 21, 2012
04:23 AM

On Today's Irish Times.


Catherine Cleary, whom I met at the Waterford Writers Weekend a few weeks ago and to whom I told my life story over lunch, visited L'Atmosphere (and Languedoc nearly) on this morning's Irish Times.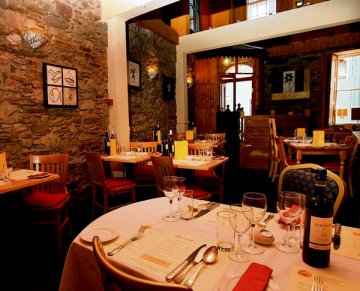 A perfect piece of France
L'Atmosphere, Waterford
CATHERINE CLEARY
EATING OUT: Close your eyes in Waterford's L'Atmosphere and it's not too hard to imagine you're sitting in a sun-soaked Languedoc square
MARTIN DWYER DID what many of us dream about on the last night of a great holiday. The Cork-born chef, who was running his own restaurant in Waterford, upped sticks with his wife Síle and bought a 12th-century presbytery in a Languedoc village to run as a chambre d'hôte.
Nearly six years later, has the reality lived up to the dream? "Even more so than I expected," he says after a reading at the Waterford Writers' Weekend. And the best bit? It's the end of the day when he gets to sit with his guests on the terrace and share the meal he has cooked for them. These meals can go long into the night as the wine and the sun go down and the swallows swoop . . . Okay, he didn't mention swallows. But that's what I'm imagining.
The links between Waterford and France go way back. It was Huguenot bakers who brought the blaa here. The city has three French-run restaurants at the moment. And while parts of Waterford have a bleak shopping-district blandness, its Cathedral Square on a bright evening could almost be a perfect French town square, only missing a war monument and sun-baked stone streets. Running down from Cathedral Square there's Henrietta Street, a steep narrow terrace leading to the river. And halfway down there's a perfect piece of France in a small restaurant called L'Atmosphere, which is owned by owned by French chefs Arnaud Nary and Patrice Garreau.
I'm on my own, with no booking, on a busy Saturday night, but thankfully it's still early and the people of Waterford seem to be taking the late French dining habits to heart. I'm sat in a small brownish annex to the main restaurant (which is small enough already). It seems a little like the naughty corner, but I'm glad to get any table in a place where the food smells coming from the kitchen are so welcoming.
Relaxation is at the heart of the great French meal. It's a leisurely stroll rather than a sprint, and the French bistro creates the comfort zone by offering set menus. So before you step through the door, you know what the bill is likely to be at the end of the night. Here there is a €20 three-course menu between 5pm and 7pm. The €20 includes a glass of wine, which is terrific value if the food is as good as it smells. I'm going with the €35 menu (three courses after 7pm) and a €4.50 glass of the house red.
A platter of mixed starters is a jazz-hands start to the meal, showing exactly what this kitchen can do. It includes a snail drenched in garlic butter, half a scallop, a prawn fried crisply in its shell, a glass of creamy fish soup, strips of delicious fried bread, a velvety chicken liver pate and a quenelle of the loveliest combination – globe artichoke and fish-egg tapenade.
It might be as culinarily cliched as a beret and a string of onions, but the boeuf bourguignon is still, as Julia Child put it, "one of the most delicious beef dishes concocted by man". At L'Atmosphere it's done superbly.
The first thing to arrive at the table is a book-sized chunk of timber; it's the pot stand for the devilishly hot black cast-iron pot in which my main course has been slowly cooking for what tastes like long, sweet hours.
The lid comes off, as beautifully as any polished silver dome, and a steam of red wine, beef, lardons, carrots and potatoes rises into the room. The meat (beef cheeks, I reckon) has been cooked down to silken strands that barely require chewing. There are perfect button mushrooms, generous chunks of potato and carrot and a last-minute sprinkling of micro chives over it. The lardons have released glistening beads of fat into the wine and beef stock. It is the king of stews.
The île flottante dessert is a similarly retro-treat, the means by which a frugal French kitchen used up the egg whites left over from a batch of creme brulees. It harks back to a better time when kitchens weren't using bottled eggs to make their desserts. Here it comes as light as air, an egg-white island bobbing on its vanilla sauce with a caramel tuille and coffee granité. Some teeny home-made chocolate cookies round off the treat.
Failing an escape to the Languedoc, going to L'Atmosphere is a little like being on holiday, or finding a special restaurant that you just want to keep to yourself.
Dinner for one with a glass of wine came to €39.50.
L'Atomosphere

19 Henrietta Street, Waterford, tel: 051-858426
1 Comments
---