---



Match


November 04, 2007
05:50 PM

Match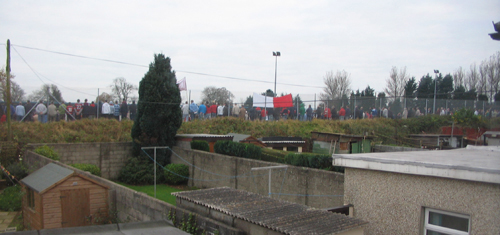 When we moved in to this house in Waterford we were aware that our back garden was up against the back of the local GAA pitch, Walsh Park.
It has hardly intruded on our lives at all since then.
Every so often our house is filled with a huge exhilariting cheer as some one scores a goal just yards from out back door.
This always fills me with nostalgia . As a child in Cork we lived just across the river from Park Ui Chaoimh so the sounds of football and hurling matches were equally a part of our lives there.
Today, a county final between Ballygunner and Ballyduff had the most people we have seen so far present and they lined our fence.
I couldn't resist taking this picture out the bedroom window!
Ballyduff won, for the record.
0 Comments
---